Day 3 of my 7 night Alaska cruise takes us to Juneau, but we weren't planning to arrive until 1pm.
Because of this, the morning started off as a day at sea and we got our first glimpse of Alaska in the distance. While the sea was calm, it was foggy outside so we couldn't see much except for a few icebergs floating in the distance!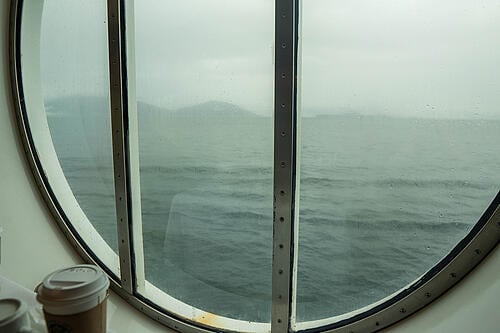 The main dining room had brunch today starting at 9am, so we enjoyed a quiet meal next to a window while looking out at the Alaskan scenery.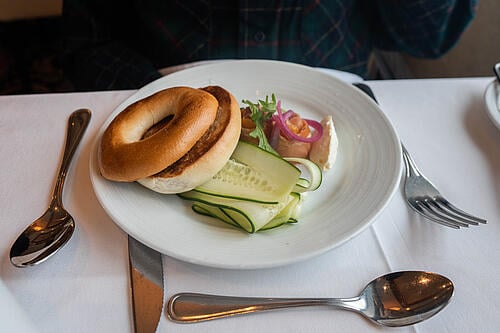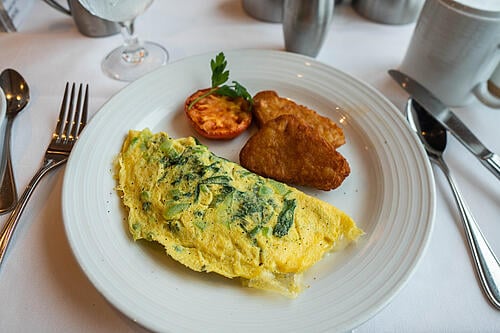 After brunch, we relaxed in our cabin for a few hours until the captain of the ship announced that we were approaching Juneau.
Arrival in Juneau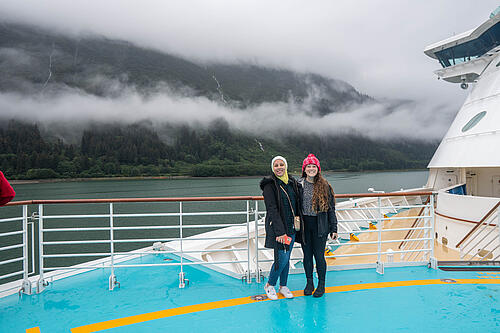 Hearing the announcement, Reeham and I put on our jackets, grabbed our cameras, and headed for the helipad. Because our only views of Alaska so far had been blocked by fog, we were eager to get a closer look.
I remember last year on my first cruise to Alaska, my dad and I were in awe when we got our first view of the state when our ship docked in Ketchikan.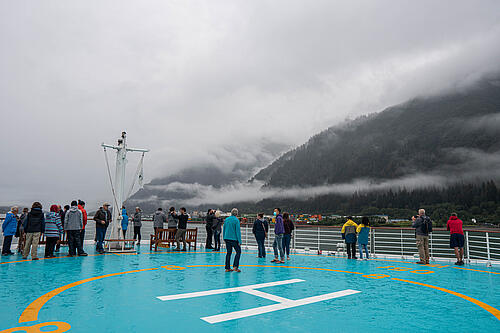 The same thing happened today when we went out on the helipad. Huge mountains and thousand-foot waterfalls surrounded the ship on both sides. We couldn't have been more excited to disembark the ship and start exploring!
There was still about an hour before the gangway opened, so we had lunch at the Windjammer before disembarking.
Radiance of the Seas docked at AJ Pier today, and we were the last ship to arrive in port. Getting to downtown Juneau from the wharf is about a 15-20 minute walk, or you can choose to purchase a round-trip shuttle ticket to and from downtown.
While the shuttle ticket was cheap, we decided to walk as we had nothing planned for the day so were in no rush.
The original plan for today in Juneau was to ride the Goldbelt Tram up Mount Roberts for stunning views of Juneau and surrounding areas. At the top of the tram are hiking trails, a restaurant, and a gift shop, so it seemed like a good way to spend the afternoon.
When we got to Juneau, however, the sky was almost completely cloudy and the tram was covered in mist, so we decided against it. It's still top of my list, but I'll have to try it someday with clearer skies!
Instead of taking the tram, we ventured into the area around the harbor where local tour operators sell independent excursions. Whale watching tours, helicopter rides, glacier viewing tours and other Alaskan adventures can be booked once ashore in Juneau.
The tours were all quite expensive (albeit standard Alaskan tour prices), so we opted for the cheapest: round-trip transportation and admission to the Mendenhall Glacier.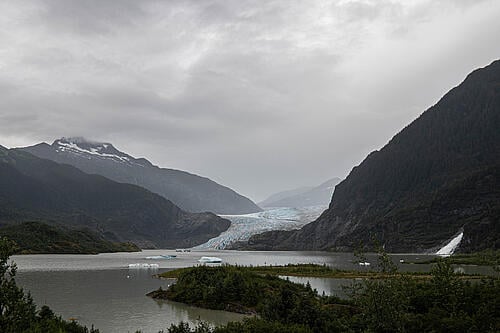 I visited Mendenhall Glacier last year during Ovation of the Seas, but it's such a beautiful place that I couldn't resist visiting it again.
Also, while downtown Juneau is full of shops and restaurants, there's not a ton to do right in town, so I thought it made sense to visit the main attraction in Juneau a second time.
Menden Hall Glacier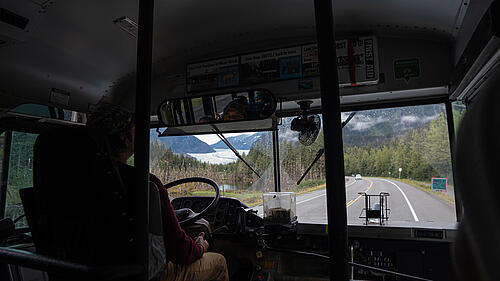 The shuttle to Mendenhall Glacier takes about 25 minutes, and our driver provided informative and entertaining commentary along the way, making the time pass quickly and giving us insight into Juneau's geography and lifestyle.
When we arrived I was once again stunned by the beauty and grandeur of the Mendenhall Glacier and surrounding mountains.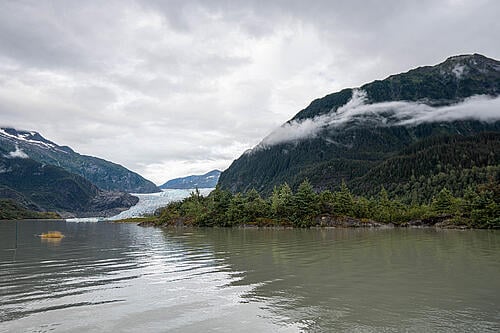 The sky blue, icy glacier and towering Mendenhall towers above are so beautiful I could probably visit 100 times and never tire of the view. We even saw two bald eagles resting on an iceberg!
We were a bit short on time so we hiked the quick trail to Nugget Falls instead of doing a longer hike. Visiting Nugget Falls is well worth the approximately 20 minute walk on mostly paved surfaces, as the waterfall is extremely powerful and awe-inspiring!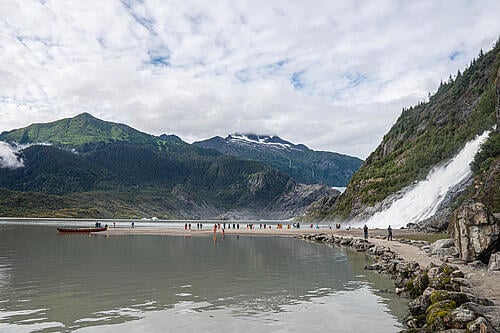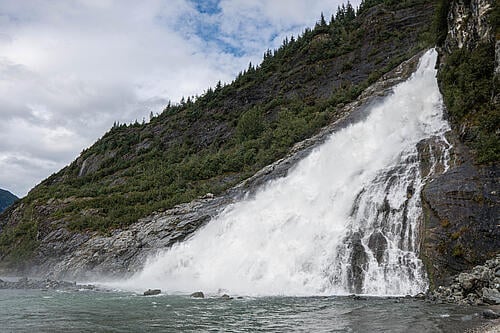 The view of the glacier from Nugget Falls isn't the best, as the view is mostly covered in rock. For the best viewing opportunity, be sure to visit the park's official scenic photo area located near the Visitor Center.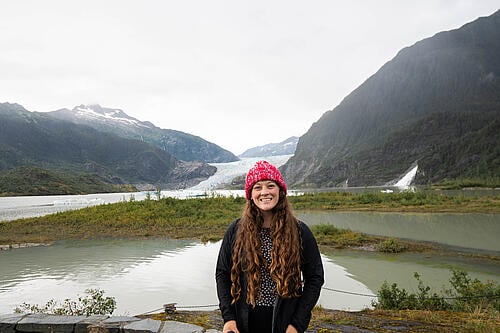 We spent about two hours on the glacier and before leaving we entered the visitor center. I found the glacier information at the center quite interesting, and they even had a theater and a live speaker providing information on the Mendenhall Glacier, so well worth a visit.
Downtown Juneau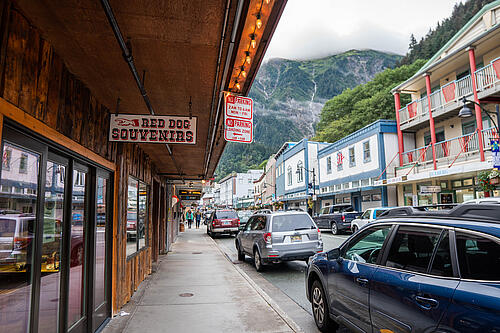 We took the shuttle back to Juneau and arrived downtown an hour and a half before boarding time.
Our first stop was the Alaska Fudge Co., which makes homemade fudge in a variety of fun flavors, from peanut butter cream cookies to chocolate. That was delicious!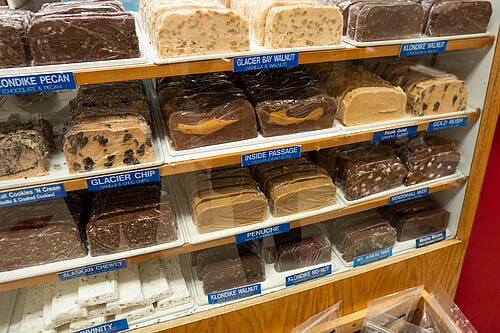 Then we stumbled across a cool food truck park/food vendor downtown. Everything from an oyster bar to fish tacos and pancakes were sold by various vendors, and it seemed like a great place to hang out near downtown.
We tried panko breaded salmon tacos from the taco truck and they were delicious!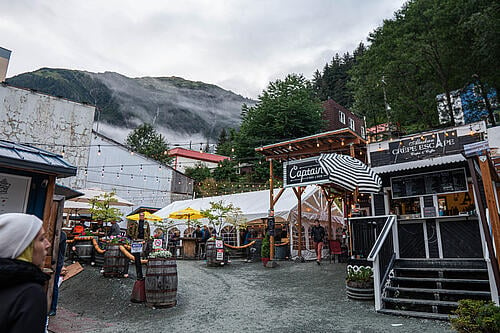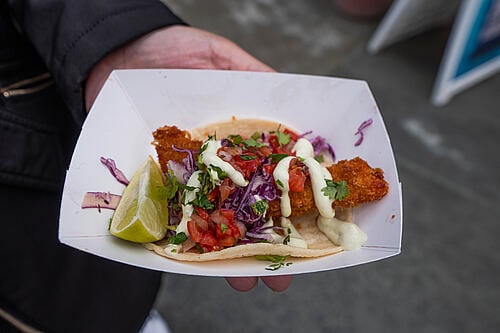 Our last stop of the day was a rest at a picnic table on the waterfront en route to the ship. Here we took in the last sights of Juneau before making the 15 minute walk back to Radiance of the Seas.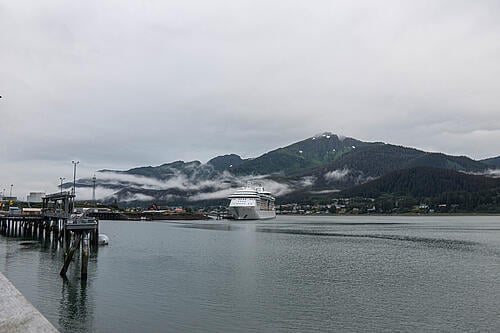 Once on board, we went straight to the Windjammer for a late dinner and watched as we sail away from Juneau and begin the journey to Icy Strait Point, our next port of call.
By this point it was already past 8pm and we were tired from a long day of walking, hiking and sightseeing, so we headed back to the cabin to relax.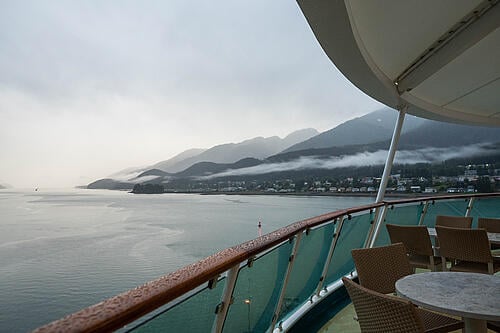 We had a wonderful day in Juneau today, and the rain kinda got away from us for most of the day. I even saw blue skies peeking through the clouds!
Thanks for following this blog live and I'll be back tomorrow from Icy Strait Point!